Surveying coral reefs in Ovalau Island to measure impacts of watershed management
While the rest of the country celebrated Fiji Day, a team of dedicated Fijian scientists continued their surveys of coral reefs around Ovalau Island. It felt apt to be there, close to Fiji's old capital Levuka which became a World Heritage Site in June, 2013.
Each day we SCUBA dive to collect baseline data on coral cover, coral disease, and reef fish communities to help us document and better understand how land use practices are impacting downstream coral reef habitats. Heavy rainfall earlier in the week had caused sediments from land to enter the Bureta River, forming large plumes extending from the river mouth out to sea. The sediment plumes are so thick it is impossible to count fish on nearshore reefs and we had to concentrate our efforts on the composition and health of the coral community.
Further away from the land the story was a little mixed. At some sites the coral community was healthy and thriving, while other reefs were still recovering from Category 5 Cyclone Winston which passed through Fiji in February 2016 leaving a trail of destruction in its path. Those reefs previously impacted by the cyclone had notable large fields of rubble (old broken coral), overturned corals and chunks of reef that had been broken off.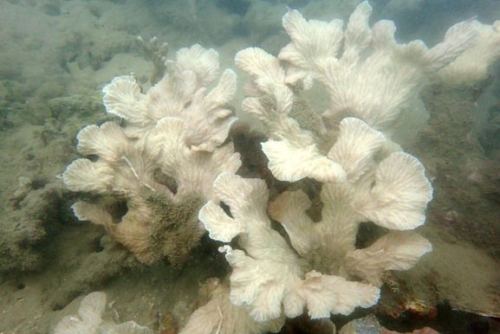 To address these pressing issues, a large multi-disciplinary, multi-sectoral project called Watershed Interventions for Systems Health in Fiji (WISH Fiji) was launched in late 2018. Working across the five sub-catchments of the Bureta, Dama Dawasamu, Waibula and Upper Navua rivers, the project focuses on targeted and integrated upstream catchment management and policy implementation to reduce the spread of disease and improve downstream ecosystem condition. The coral reef data collected this year will be our baseline and we will be doing monitoring annually to determine if interventions to improve land management will have a positive impact on coral reefs.
There is a tight connectivity between land and sea on high islands given the generally smaller sizes of their watersheds. Bottom line is that watershed health matters for coral reefs and the people who are dependent on them, especially for food and livelihoods. We need to ask ourselves, can we really afford to lose them?
The WISH Fiji project is a partnership between the University of Sydney, Edith Cowan University, Fiji National University and Wildlife Conservation Society (WCS) in close collaboration and partnership with the Fiji Ministry of Health and Medical Services, Water Authority of Fiji, World Health Organisation (WHO), the Pacific Community (SPC), UNICEF. The project is generously supported by Bloomberg Philanthropies' Vibrant Oceans Initiative and the Australian Government Department of Foreign Affairs and Trade.