WATERSHED INTERVENTIONS FOR SYSTEMS HEALTH IN FIJI (WISH Fiji) 
The Watershed Interventions for Systems Health in Fiji (WISH Fiji) project is a collaboration between the University of Sydney, Edith Cowan University, Fiji National University, and the Wildlife Conservation Society, in partnership with the Fiji Ministry of Health and Medical Services, Water Authority of Fiji, Pacific Community, UNICEF and World Health Organization.
In Fiji, rural communities are highly dependent on nearby water sources for consumption and other household activities. Outbreaks of water-related diseases such as leptospirosis, typhoid and dengue (LTD) are common in Fiji. In recent times, there has been a three-fold increase in leptospirosis cases following Tropical Cyclone Winston in 2016, at least 20 reported cases of life-threatening typhoid and the largest dengue outbreak (> 27,000 cases) in Fiji during the 2013/2014 cyclone season.
 In sub-catchment areas of the Dawasamu, Waibula, Upper Navua, Bureta and Dama rivers, all of which had documented cases of LTD, we are:
gathering data on land and water use, water and sanitation infrastructure, water quality, ecosystem condition and suspected and confirmed cases of LTD
using this information to co-design and adapt targeted management interventions with local communities
working with local leaders and government agencies to improve health and watershed system governance
monitoring the impact of these changes over time.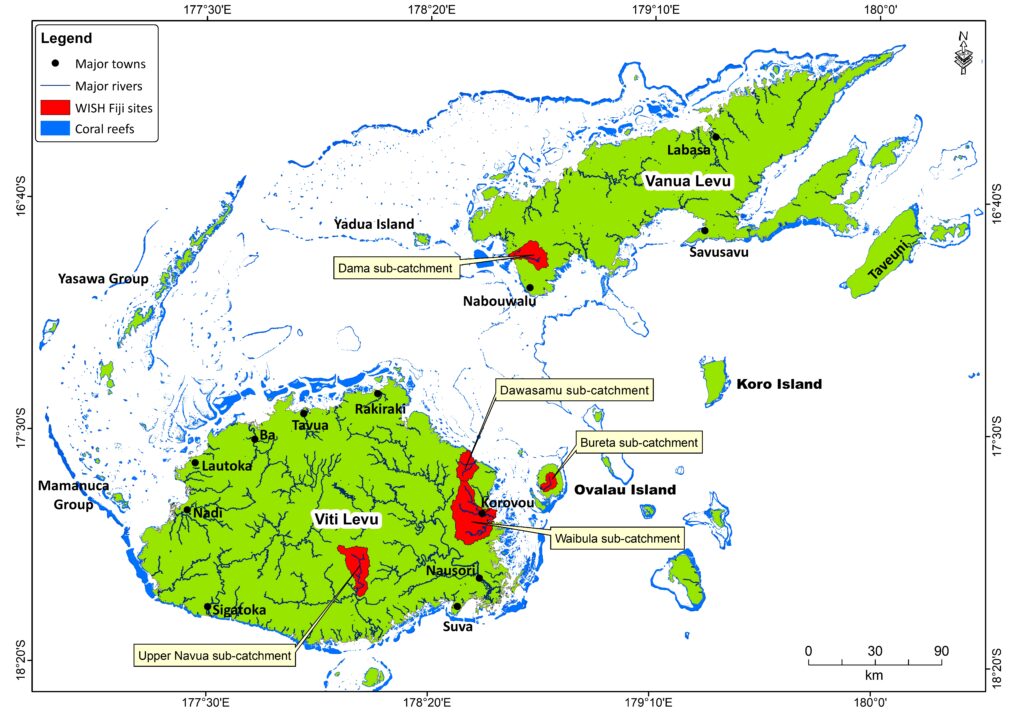 The catchment activities are led by Fiji-based catchment coordinators, working closely with field staff and 29 sub-catchment communities (equivalent to over 300 households) to collect evidence on the environmental and socioeconomic risk factors influencing water-related disease incidence or prevalence.
Our aims:
Through these strategies,  we aim to:
reduce the incidence of water-related diseases in people and downstream coral in five Fiji sub-catchments
strengthen local connections to place to enhance environmental stewardship and maintain cultural practice
develop a coordinated mechanism for systems health governance involving communities and government
empower communities to access and maintain their fundamental right to clean water
facilitate approaches to sustainably finance and scale interventions nationally.
Achievement of these aims will lead to improved health and well-being of people and ecosystems across Fiji and provide a global model for integrated island management.
WISH Fiji project staff operate from  the Fiji Centre for Communicable Disease Control (FCCDC), Mataika House in Tamavua and Wildlife Conservation Society, 11 Ma'afu Street Suva.