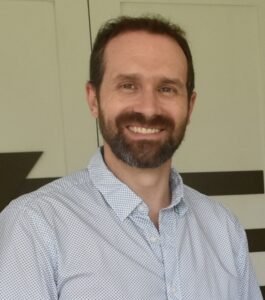 Professor Joel Negin
Project Chief Investigator, University of Sydney
Joel Negin is the Head of the School of Public Health at the University of Sydney since November 2015. Joel graduated from Harvard and Columbia Universities and then worked for a number of years in sub-Saharan Africa on health and development projects before moving to Australia. In those years, he lived and worked in South Africa, Zimbabwe, Botswana and Kenya and collaborated with governments, the World Bank, academic institutions and United Nations partners. Joel started at the School of Public Health in 2008 as a lecturer in the Masters of International Public Health program and has always loved teaching and the interaction with students. With regard to research, Joel holds grants from the NHMRC and the Department of Foreign Affairs and Trade focused on strengthening health systems in low- and middle-income countries. He maintains collaborations in Uganda, Vietnam, Indonesia and Fiji and maintains a passion for capacity building in the Asia-Pacific region.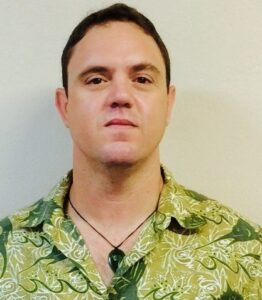 Dr. Aaron Jenkins
Project Chief Investigator, University of Sydney
Aaron Jenkins has highly regarded expertise in crosscutting development themes including integrated conservation and development, wetland management for health, nutrition and climate change mitigation, WASH and waterborne disease management, intersection of climate change, natural disaster, land and water management on health and sustainable fisheries. This expertise stems from 20 years of professional experience in international development working with international and regional agencies, governments, NGOs, donors, universities and communities in Papua New Guinea, Fiji, Solomon Islands, Palau, Samoa, Kiribati, Vanuatu, Federated States of Micronesia, Indonesia, Philippines, Australia and USA.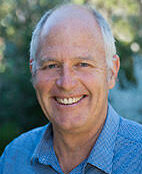 Pierre Horwitz
Professor, Edith Cowan University
p.horwitz@ecu.edu.au
Pierre Horwitz is a Professor at Edith Cowan University in Western Australia and Director of its Centre for Ecosystem Management; his research and teaching have included an ecosystems approach to the relationships between biodiversity, culture and human health and well-being, with a particular interest in wetlands and water resource management. Pierre has held an appointment for the Ramsar International Convention on Wetlands as Theme Coordinator for Wetlands and Health on its Scientific and Technical Review Panel 2009-2015, during which time he also worked with the Convention for Biological Diversity and the World Health Organisation. He is a former Director of Bush Heritage Australia, President of the Australian Freshwater Sciences Society (1999-2001), and co-founder of the International Association for Ecology and Health. Pierre's current projects include the ecological characteristics of Aboriginal songlines, locating loss of values from the effects of climate change in rural and regional communities, and predicting the effects of fire on water quality in water catchments. He has a longstanding interest in peatlands and heathlands, salt lake systems, and interdependent groundwater systems.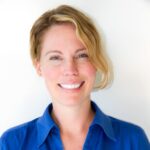 Dr. Jacqueline Thomas
Lecturer, School of Civil Engineering, The University of Sydney
jacqueline.thomas@sydney.edu.au
Jacquie Thomas is a lecturer in the School of Civil Engineering at The University of Sydney. As a chief-investigator on the WISH Fiji project, she brings her skills in improving water, sanitation and hygiene (WaSH) in developing countries. Jacquie has led applied WaSH research programs in Sub-Saharan Africa, Asia and the Pacific. She has a specialised research focus on improving sanitation, through understanding the microbiological and chemical risks and employing sustainable environmental engineering practices. Another key priority for her, is capacity development of both laboratory capabilities and researchers in developing countries. Jacquie has a Bachelor of Science in Microbiology (Honours), Bachelor of Arts in Politics and International Relations and a PhD in Environmental Engineering, all from UNSW, Australia.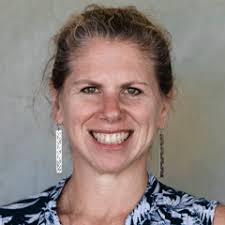 Dr. Stacy Jupiter
Director, Wildlife Conservation Society Melanesia Program
Stacy Jupiter is the Director of the Wildlife Conservation Society, Melanesia Program since 2015. Stacy provides technical support and oversight to the Fiji and Papua New Guinea programs, particularly in areas related to sustainable coastal fisheries, integrated land-sea management, and developing platforms to assess resilience that are appropriate to the Pacific context. She has been leveraging the success of WCS's conservation efforts in Melanesia to initiate new programs and projects in Solomon Islands and Vanuatu. Stacy holds a Bachelor or Science in biology from Harvard University and subsequently worked as a U.S. Peace Corps volunteer in Gabon, teaching rural farmers how to build fishponds and develop sustainable agriculture. Her Ph.D. research through the University of California, Santa Cruz focused on links between land use and downstream impacts to water quality and nearshore coral reefs, topics which she continued to develop as a postdoctoral fellow with the ARC Centre of Excellence for Coral Reef Studies in Australia.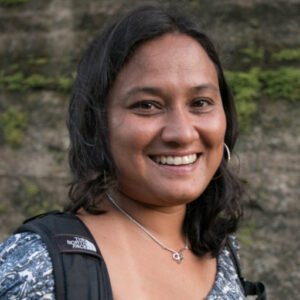 Dr. Sangeeta Mangubhai
Director, Wildlife Conservation Society
Sangeeta Mangubhai is the Director for Wildlife Conservation Society since 2014. She has worked on marine science and conservation in Australia, East Africa, Indonesia and the South Pacific. She completed her Ph.D. in 2007 through Southern Cross University in Lismore, Australia, looking at reproduction and recruitment of corals in Kenya. Since then she has been working on designing marine protected areas, marine spatial planning, community-based management, coastal fisheries, payment for ecosystem services, gender inclusion in fisheries, environmental policy, and climate change. She is a specialist in designing monitoring programs to understand impacts of disturbances on coral reef communities, and the return of investment of conservation strategies. Sangeeta chairs the Marine Working Group for the Fiji National Areas Committee. She is currently an editor for the journal Pacific Conservation Biology and the Pacific Community's Women in Fisheries Information Bulletin. She was awarded a 2018 Pew Fellow in Marine Conservation to work on mainstreaming gender and human rights-based approaches into coastal fisheries management in Melanesia.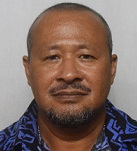 Dr. Andrew Tukana
Project Manager
atukana@wcs.org 
Andrew Tukana has a PhD from the School of Veterinary and Biomedical Sciences at James Cook University in Townsville, Australia. His research for his PhD involved the development of livestock disease surveillance methods for Fiji, Papua New Guinea, Vanuatu and the Solomon Islands, with a focus to detect and determine the prevalence of diseases in livestock populations. He also has extensive experience working in the region as well as with the Ministry of Agriculture in Fiji and The Pacific Community (SPC) to improve food and nutritional security, improve livelihoods through climate change mitigation and adaptation. His work engaged heavily with rural communities to build capacity to improve climate change resiliency and sustainability of community projects. Andrew has also carried out research work on transboundary zoonotic diseases to reduce the risks of disease transmission, watershed improvement from sustainable livestock production, animal genetics conservation, biosecurity and waste management. His wealth of knowledge and leadership experience will benefit the WISH Fiji project.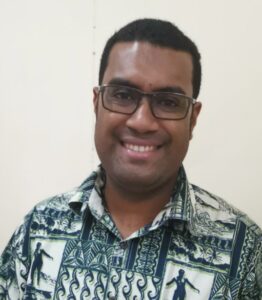 Timoci Tuinakelo Naivalulevu
Project Manager/Catchment Coordinator, Upper Navua/Namosi Sub-Catchment
Timoci Naivalulevu joined WISH Fiji as a Catchment Coordinator/ Supervisor in 2019. He holds a Bachelor of Science and a Post-Graduate Diploma in Biodiversity and Conservation from the University of the South Pacific. Timoci is responsible for coordinating activities in the Upper Navua sub-catchment. He works closely with the project's staff, local government and international partners/stakeholders to ensure that the project work is carried out effectively. Timoci also ensures that the research protocols of the project are thoroughly observed. He oversees the welfare of the water safety committees in the communities as well. Additionally, he works with the data management team to ensure that the data collected are correctly stored on the project's data depository. Timoci will lead the consultation, design and implementation of the appropriate interventions within communities to help improve the environmental health and human well-being.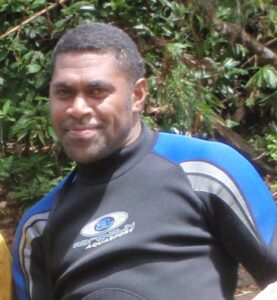 Kinikoto Mailautoka
Catchment Coordinator, Waibula Sub-Catchment
Kinikoto Mailautoka joined WISH Fiji as a Catchment Coordinator in 2019. He holds a Diploma in Ocean Resource Management. Kinikoto leads the activities in the Waibula sub-catchment. Kinikoto has a wealth of knowledge and experience in community engagement and has spent most of his time in his career in the role of community engagement officer. He is also an expert in freshwater fish identification and one of his other roles with the project involves conducting surveys on community aquaculture.
Vilisi Naivalulevu
Catchment Coordinator, Dawasamu Sub-Catchment
Vilisi Naivalulevu joined WISH Fiji as a Catchment Coordinator in 2019. She holds a Degree and Post-Graduate Diploma in Environmental Science from the University of the South Pacific. Vilisi leads project work in Dawasamu catchment. She works with the local government, NGO partners and communities to ensure that project activities are carried out efficiently and effectively within her area of responsibility.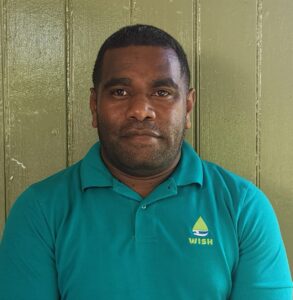 Sikeli Naucunivanua
Agricultural Officer
snaucunivanua@wcs.org
Sikeli Naucunivanua joined WISH Fiji as an Agricultural Officer in 2020. He holds a Bachelor in Agriculture Science from the University of the South Pacific, Alafua Campus, Western Samoa. After completing his Diploma in Agriculture from the Fiji College of Agriculture, Sikeli joined the Ministry of Agriculture. He spent nine years at the Ministry as an Agricultural Extension Officer, where he worked with the communities on the island of Vanuabalavu and Lakeba in the Lau Group. With his extensive knowledge in the Fijian agriculture sector, Sikeli took up his new role as a UNCBD MEA Liaison Officer under the partnership of Ministry of Environment and United Nations Development Programme for three years. He also worked at the Fiji Development Bank as a Relationship and Sales Officer.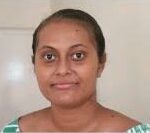 Mereia Ravoka
Community Engagement Officer
Mereia Ravoka (Mia) joined WISH Fiji as a Community Engagement Assistant in 2019. She has a Bachelor in Environmental Science from the University of the South Pacific. During her final term of studies, she began volunteering at the Institute of Applied Science where she was exposed to community fieldwork. Later, she joined Fiji Locally Managed Marine Area(FLMMA) Network as an intern and then a Graduate Assistant for 2 years. Mereia has been mainly working with communities in establishing Yaubula (Resource) Management Support Team and formulating Natural Resource Management Plan from the village, district and provincial levels. She has been engaged in empowering fisherwomen in communities.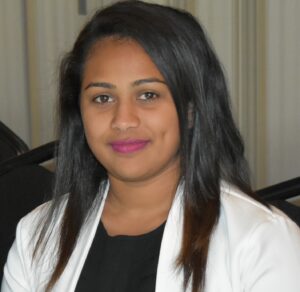 Shayal Sami
Data Manager
Shayal Sami joined WISH Fiji as Data Manager in 2019. She holds a Degree and a Post-Graduate Diploma in Public Health from the Fiji National University, College of Medicine, Nursing and Health Science. Shayal in involved in developing, overseeing and implementing data management system for various stages of the project within the identified data collection periods. She is tasked with obtaining relevant sources of data to collaborate with the WISH Fiji Project and works closely with key partners of the project and the software development consultant to ensure that data sources are available to reporting and mapping the application. Shayal has previously worked with the Ministry of Health and Medical Services on data management.
Kelera Tuisova Naivalu
Project Administration Officer
Kelera Tuisova Naivalu joined WISH Fiji as Project Administration Officer in 2019. She holds a Degree in Public Health from the Fiji National University's College of Medicine, Nursing and Health Science. With her role at WISH Fiji, Kelera provides support to the Project Manager in coordinating the daily operations of the project. She provides administrative support a Fiji-based project team consisting of researchers, sub-catchment project coordinators, support staff and postgraduate research engaged in grant activities within selected sub-catchments. She assists the administration of accounts and maintenance of financial records and ensures that record and filing systems are maintained in accordance with the donor guidelines.