Watershed Interventions for Systems Health in Fiji
Healthy watersheds are fundamental to human health and well-being.
In Fiji, rural communities are largely dependent on nearby water sources for consumption and other household activities. However, increasing development and poor land-management practices around watersheds can contribute to declines in water quality.
Land-based impacts are particularly problematic in areas where logging is prevalent and unmanaged, and where village and urban waste management systems are rudimentary. Sediments and waste from land activities such as logging, soil and gravel extraction, litter, animal waste, unsafe agricultural practices, livestock rearing and poor sanitation often seep into waterways. This is particularly so in high island ecosystems, where there is a tight connectivity between land, rivers and the sea. Read more.
There is growing evidence that poor land practices can contribute to the spread of waterborne diseases such as typhoid, leptospirosis and dengue in the tropics. For example, there are a growing number of cases of typhoid and leptospirosis associated with vegetation removal and high livestock density in Fiji. These same poor land practices also have negative impacts on downstream freshwater and marine resources on which local people rely for food, livelihoods and cultural practice.
To address these issues, a large multi-disciplinary, multi-sectoral project called Watershed Interventions for Systems Health in Fiji (WISH Fiji) was launched in late 2018. Working across the five sub-catchments of the Bureta, Dama, Dawasamu, Waibula and Upper Navua rivers, the project focuses on targeted and integrated upstream catchment management and policy implementation to reduce the spread of disease and improve downstream ecosystem condition.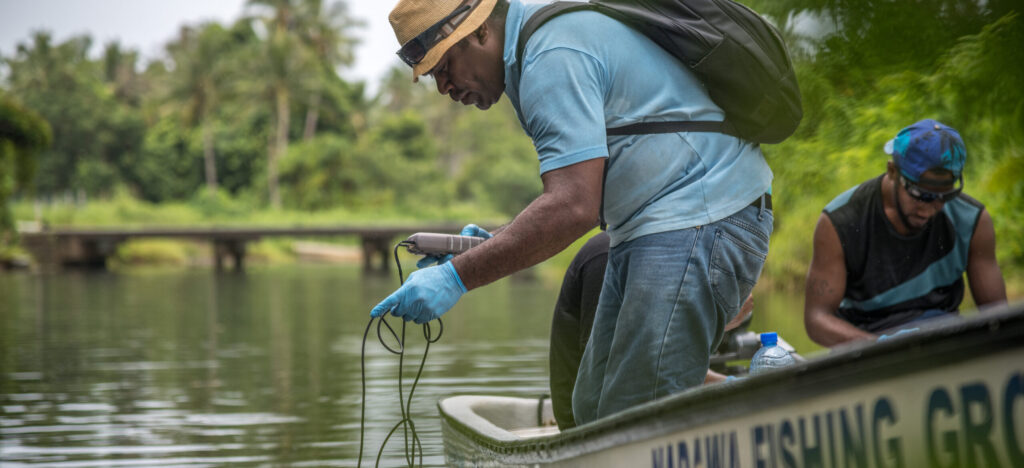 The specific nature of the watershed interventions will be determined in consultation with village committees, in partnership with WISH project staff. Training will also be provided to the next generation of health systems leaders, specifically in effectively managing water resources, improving the health of people, the state of environment, and developing ecological interventions. The creation of inclusive decision-making processes with government and local communities is essential for long-term implementation. Therefore, the project will largely engage local communities and government to develop intervention plans to properly manage the watersheds.
The WISH Fiji project is a partnership between the University of Sydney, Edith Cowan University, Fiji National University and Wildlife Conservation Society (WCS) in close collaboration and partnership with the Fiji Ministry of Health and Medical Services, Water Authority of Fiji, World Health Organisation (WHO), the Pacific Community (SPC) and UNICEF. The project is generously supported by Bloomberg Philanthropies' Vibrant Oceans Initiative and the Australian Government Department of Foreign Affairs and Trade.