Watershed management and coral reefs
Healthy watersheds are fundamental to human health and wellbeing whether you live inland or along the coast. Ridge-to-reef management is not new and organisations like the Wildlife Conservation Society (WCS) have been supporting communities take a holistic and integrated approach to managing their resources for more than a decade. Read more.
Catchment management is an important issue in Fiji as land use practices such as forest clearing and agriculture are increasingly impacting watersheds, causing rivers to be filled with sediments, especially after heavy rains. These sediments eventually make their way down the river and discharge into the ocean. A certain amount of the sediments may be trapped by mangroves at the mouth of rivers, but large volumes of silt end up on coral reefs.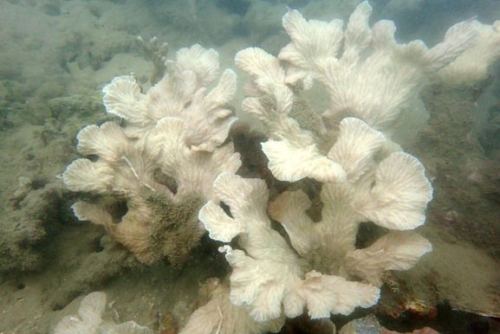 Human activities are changing both the magnitude and characteristics of sediment that is reaching the reef. Some species of coral cannot survive sediment plumes after heavy rainfall. Other corals become stressed and produce volumes of mucous to trap silt to prevent it settling on their tissue. Fine silt that ends up on the ocean never really goes away – rough weather and currents can continue to re-suspend it, keeping corals in a stressed state.
To address these pressing issues, a large multi-disciplinary, multi-sectoral project called Watershed Interventions for Systems Health in Fiji (WISH Fiji) was launched in late 2018. Working across the five sub-catchments of the Bureta, Dama Dawasamu, Waibula and Upper Navua rivers, the project focuses on targeted and integrated upstream catchment management and policy implementation to reduce the spread of disease and improve downstream ecosystem condition.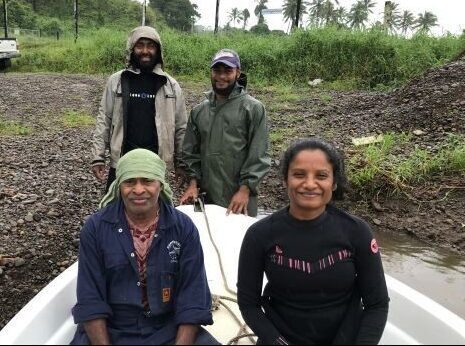 To document and better understand these downstream impacts, a team of scientists from WCS are surveying reefs close to and offshore from the mouth of the Bureta, Dama, Waibula, and Dawasamu rivers. Each day we SCUBA dive to collect baseline data on coral cover, coral disease, and reef fish communities. We are documenting how much silt (measured as percentage cover) is present on those reefs. The composition of coral communities can give us insights into the impact sediments are having on reef systems. The types and abundance of coral disease provide a strong indicator of land-based impacts. Monitoring will be done annually to determine if interventions to improve land management will have a positive impact on coral reefs.
The WISH Fiji project is a partnership between the University of Sydney, Edith Cowan University, Fiji National University and Wildlife Conservation Society (WCS) in close collaboration and partnership with the Fiji Ministry of Health and Medical Services, Water Authority of Fiji, World Health Organisation (WHO), the Pacific Community (SPC), UNICEF. The project is generously supported by Bloomberg Philanthropies' Vibrant Oceans Initiative and the Australian Government Department of Foreign Affairs and Trade.