WCS strengthens partnership with Ministry of Agriculture
On 17 March 2021, the Wildlife Conservation Society Fiji Country Program (WCS Fiji) signed a Memorandum of Understanding with the Ministry of Agriculture to collectively advance and promote sustainable agricultural practices and wise land-use planning as integral components of social and economic development in Fiji.
The agreement was signed by the Permanent Secretary of the Ministry of Agriculture, Ritesh Dass and the WCS Fiji Country Program Director Dr Sangeeta Mangubhai at the Ministry of Agriculture headquarters in Raiwaqa, Suva.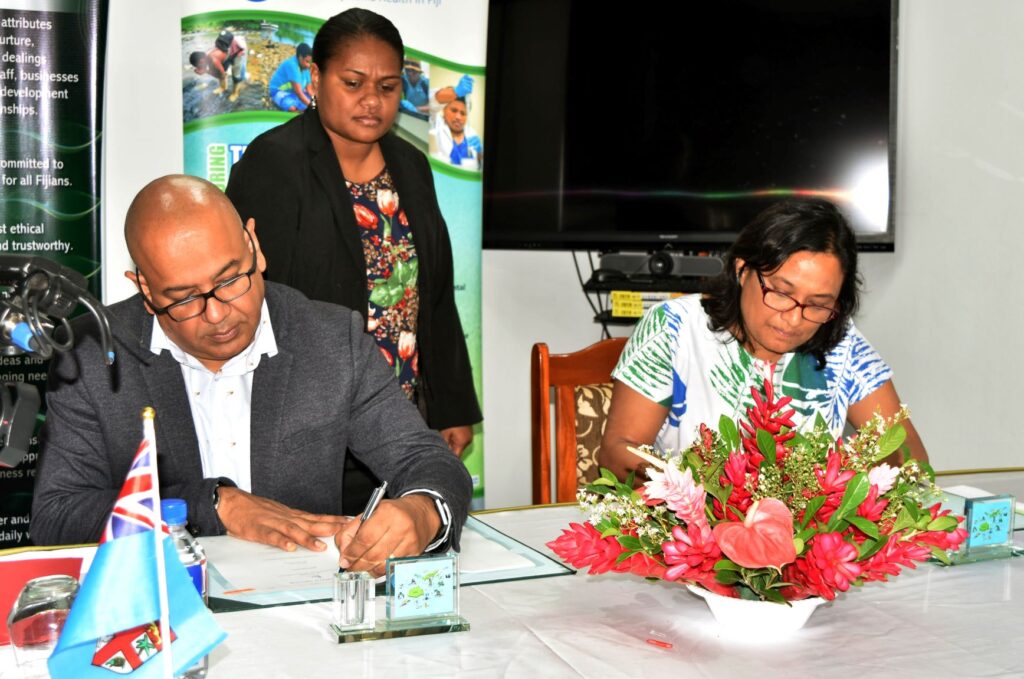 The partnership serves as a significant platform for WCS Fiji to work closely with the Ministry of Agriculture on its latest multi-stakeholder project – Watershed Interventions for Systems Health in Fiji (WISH Fiji). The WISH Fiji project aims to work with 29 communities across Bureta (on Ovalau Island), Dama (Bua Province), Dawasamu and Waibula (Tailevu Province) and Upper Navua (Namosi Province) sub-catchments to implement a range of interventions focused on water and sanitation storage, infrastructure and maintenance, hygiene, agriculture and best land-use practices. These interventions are aimed at promoting wise environmental practices to enable healthier and well-functioning ecosystems which can further contribute to the good health of the people.
During the official signing of the agreement, Mr Dass said, "It's an opportune time for agencies to collaborate and derive synergies in areas of mutual interest and today marks the beginning of that collaboration through which we can reach our collective desired objectives.
"In collaboration with the Ministry of Agriculture, the WCS will work closely with our Land Use Division for sustainable land-use, education and training, Conservation Agricultural planning and soil health management, and climate change adaptation programs," Mr Dass said.
On this occasion, Dr Mangubhai said WCS Fiji was looking to take the WISH Fiji project forward with the Ministry. She added that both agencies had goals that were closely aligned and while the event today was about natural resource management it was also important to think about economic development, how to support livelihoods, and food security for the local people.
The WCS Melanesia Director, Dr Stacy Jupiter, welcomed the opportunity to expand the collaboration to work across the sub-catchments with the WISH Fiji project and beyond over the next few years.
Dr Jupiter said, "The interventions that we are trying to put in place in partnership with the Ministry of Agriculture is not just to improve downstream water quality, it is also to try and improve soil conservation which will ultimately increase the productivity of agriculture to support the food security across Fiji."
This WISH Fiji project is generously supported by Bloomberg Philanthropies Vibrant Oceans Initiative and Australian Department of Foreign Affairs and Trade, Indo-Pacific Centre for Health Security.
WISH Fiji embraces an integrated approach by working with national and local government, rural communities and the commercial sector in Fiji to take a systems approach to health and well-being through focused action within five river sub-catchments with documented cases of typhoid, leptospirosis and dengue fever.